Due to a twist in the law, Guido Boeckx (67) will soon see his supplementary pension completely flow away to the state. A few thousand people, with a low pension and limited second pillar, are in his case. Pension minister Karine Lalieux (PS) acknowledges the problem, but there is no solution.
Guido Boeckx saw in August last year that his pension had suddenly been reduced by 62 euros, from 1,541 to 1,479 euros. "I was shocked," says 67-year-old Olenaar. "I have had a career of 42 years as an installer of central heating and sprinkler systems for fire protection, always with the same employer. I retired ten years ago for medical reasons."
At the end of his career, Boeckx earned approximately 1,900 euros as a net salary per month. Since then, his pension has been indexed every time, until last year. "Suddenly I got less money. Not easy, life has become much more expensive. Luckily we paid off our house. I can't imagine what that means for people who have to pay rent every month."
Boeckx informed the Christian trade union ACV, which immediately recognized the problem. Many victims had already come knocking. Due to a twist in the law, someone with a statutory gross pension between 1,790 and 1,880 euros and a limited supplementary pension of 5,000 to 15,000 euros is punished. He has to pay extra social security contributions. If that person lives long enough, the full supplementary pension will ultimately flow to social security.
"At the age of 65, I did indeed receive a small supplementary pension of between 5,000 and 6,000 euros," Boeckx continues. "That wasn't much because in our company we only started saving for that supplementary pension at a later age. My son is also in construction, he will be paid much more later. I think it is a shame that someone who has worked hard all his life suddenly loses part of his pension."
Anomaly in the law

This has everything to do with the payment of sickness and disability contributions on top of the supplementary pension. When calculating those contributions, outdated tables are used, which have not been adapted to the higher life expectancy. For a specific group with a low state pension and limited second pillar, this means an unreasonably high contribution.
In recent years, many victims have also sought redress from the pension services to raise this problem. The Ombudsman for Pensions also devoted a chapter to this in 2021 in his annual report. The theme came to the social partners on the table, where it was decided to tackle it. They also provided a ready-made solution: the calculation had to be done in a different way. But so far nothing has been done to rectify it.
The cabinet of Minister of Pension Karine Lalieux (PS) is aware of this. "The minister has repeatedly indicated that he recognizes this problem and wants to tackle it. The cost price for this is 17 million euros. The minister put this file on the table during the budget conclave at the end of 2022, but unfortunately this was not retained. We will continue to strive for a solution."
Exactly how many people are in this situation is not entirely clear, but it would still be several thousand cases, said the ACV. "And to think that the coalition agreement states that people should be obliged to invest part of their wages in a supplementary pension. First make sure that these kinds of problems are solved," says Nathalie Diesbecq of the ACV study service. "Otherwise, even more people risk coming out worse."
4.1 million savers

Last Wednesday, the social agreement on landing strips, early retirement and overtime once again stated that this problem would be tackled. The question is how long it will take before the government also transposes this into law. In any case, Boeckx hopes for a quick solution. "Perhaps it would be better if we could also write the laws for our own pension, like the parliamentarians," he laughs off the matter. "Of course I hope that a solution will be found soon. It was a hard shell. Especially at the beginning of my career, when we still had to do everything with scaffolding. My back still hurts now. But now we try to enjoy our old age anyway. My wife has also just retired, having worked for 42 years in the biscuit factory of De Beukelaar in Herentals."
A total of 4.1 million Belgians are members of a supplementary pension plan. The 56 to 65-year-olds have saved an average of 61,790 euros. But in sectors such as construction, this is often much lower because monthly savings are lower and because savings for these types of systems only started later.
A calculation example

We clarify our story with a calculation example. Someone with a state pension of 1,790 euros and a net supplementary pension of 9,845 euros ultimately pays 15,139 euros in sickness and disability contributions at the age of 82. This means that he has 5,294 euros less in pension income, just because he received a supplementary pension. In this case, therefore, he would have been better off if he had not received a supplementary pension. Guido Boeckx is in the same situation.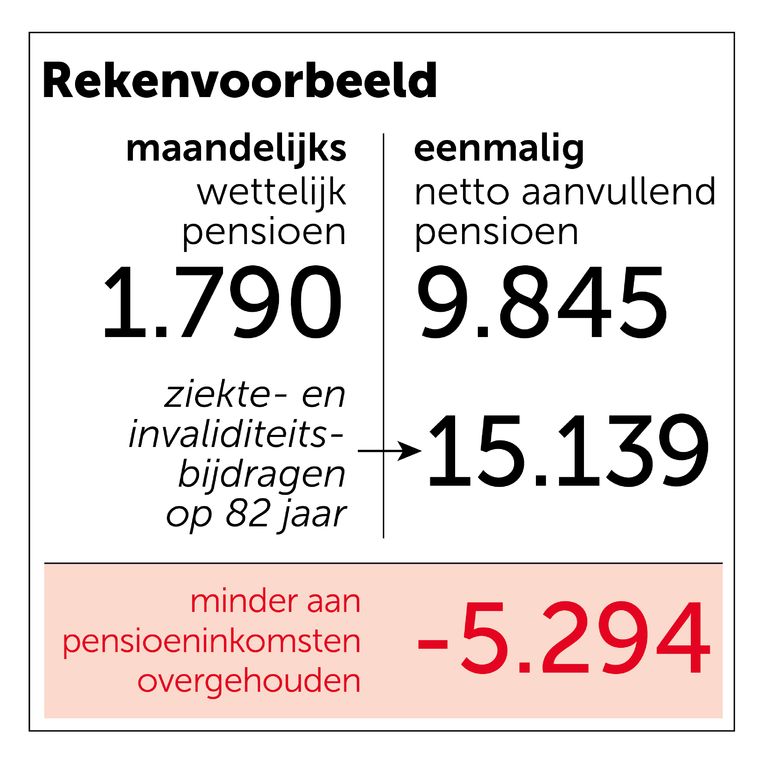 If you want some motivation, then here is your way: Frases Positivas