"Physically fine. When the whistle FC Barcelona avoid disturbing passing lanes by standing still in triangulations. The pressure of the environment motivates him. He referees very close to the ball". With these sentences begins one of the reports that Javier Enriquezthe son of Jose Maria Enriquez Negreira, prepared for the Fútbol Club Barcelona defining Mateu Lahoz's way of refereeing according to the summary to which he has had access THE SPANISH.
Such were the analyzes carried out by Javier Enríquez so that the barca He was fully informed of all the qualities of the referees who directed each game, with a series of technical notes, with a breakdown of his attitude and with a list of advantages and disadvantages that could play for or against the Catalans. The author of these reports thus gave Barcelona clear clues and not only that, but he offered advice and almost gave orders to get the most benefit from each arbitration.
In one of these reports, the son of Enríquez Negreira advised FC Barcelona before matchday 36 in which the culés played against him Real Betis. A match that ended with a 0-2 win for Barça thanks to goals from rakitic and Luis Suarez. The referee appointed for that match was Mateu Lahoz, one of the most renowned and also controversial due to his particular way of refereeing, so any extra information was welcomed by the Catalan team.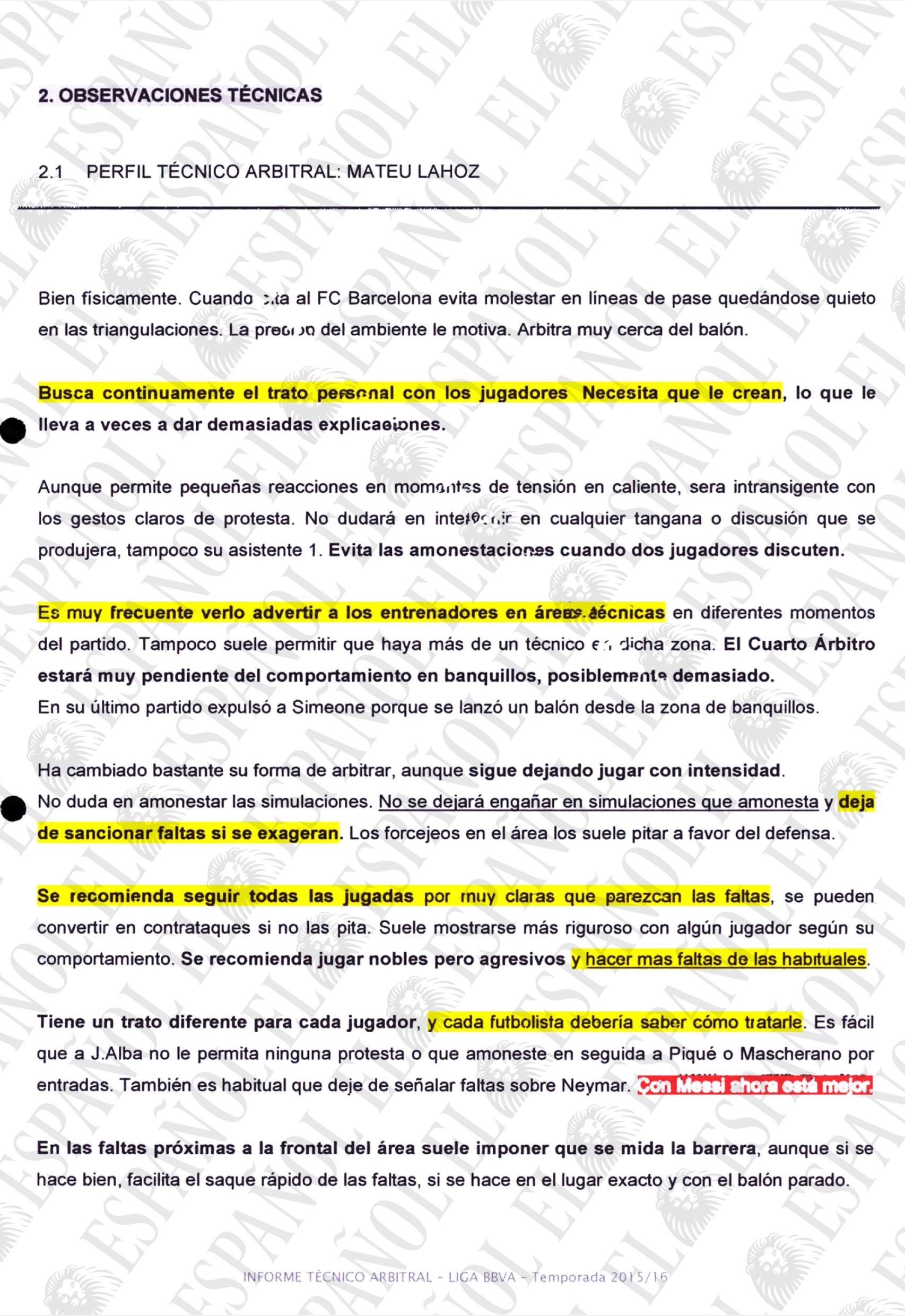 In the letter, they talked about Mateu's permissiveness with some actions and Barça was directly urged to make more fouls than usual in that game: "It is recommended to follow all the plays, however clear the fouls may seem, they can be converted in counterattacks if he does not whistle them. It is recommended to play noble but aggressive and make more fouls than usual", Javier Enríquez commented.
The report was so detailed that they even talked about proper names and the chances some Barça players had of being admonished by Mateu: "He treats each player differently, and each player should know how to treat him. It's easy what to Jordi Alba do not allow him to protest or immediately admonish Pique either mascherano for tickets".
In addition, the son of Enríquez Negreira also had words then for two of the most unbalancing footballers of Barcelona at that time as neymar and Leo Messi: "It's also common for him to stop pointing out fouls on Neymar. With Messi he's better now."
Advantages and disadvantages
At the end of this previous report that was made exclusively for that Betis – Barcelona from matchday 36 of the 2015/2016 season, a table is also included in which three advantages and disadvantages of Mateu Lahoz's refereeing stand out visibly. It is a kind of summary, a conclusion that serves to highlight the strengths and weaknesses of the referee.
So, Javier Enriquez He includes three advantages or qualities that in his opinion are positive about Mateu. "It admonishes regulatory actions more rigorously than before," he wrote in his first exposition. "In previous games against Barça he has refereed rigorously", and "he will be more restrained and discreet than in other games", he concluded in his other two strong points.
Por otra parte, acto seguido se exponen las desventajas de que Mateu fuera el colegiado de aquel choque. "Deja de señalar faltas evidentes (hay que hacer más faltas)", resaltó en primer lugar Javier Enríquez. "Se mostrará intransigente con las protestas" y "el asistente 1 ha cometido fallos en fueras de juego últimamente", eran las otras dos desventajas a juicio del hijo de Enríquez Negreira.
Balance negativo de Mateu
El informe de un colegiado se completaba una vez que el partido finalizaba. Aquí era cuando Javier Enríquez añadía una página adicional al análisis con todas las jugadas clave o polémicas del encuentro donde las describía, las analizaba y las juzgaba. Si el balance de la decisión arbitral había sido favorable al Barça, las marcaba en la casilla "+", si el resultado era neutro las catalogaba como "ok" y si el equipo culé había sido perjudicado eran etiquetadas como "-".
En total, en aquel partido contra el Real Betis, a juicio del hijo de Enríquez Negreira el Barça salió beneficiado en 3 jugadas clave, Mateu estuvo acertado en otras 3 mientras que los catalanes fueron perjudicados en 4 acciones. Por lo tanto, una valoración negativa para el colegiado en ese encuentro.
Esos 4 momentos en los que el Barça salió perdiendo según el criterio de Javier Enríquez se dieron dos en cada parte. "Pisotón sobre Piqué tras despejar en banda" fue una acción a juicio del informe merecedora de falta y amonestación, pero Mateu no señaló nada. 
"Mano involuntaria de Suárez tras tocar el suelo y sin sacar ventaja del toque. Al borde del área rival, evita problemas", fue otra acción en la que se señaló infracción por parte del colegiado cuando, según Javier Enríquez, no debería haber sido así. Las otras dos acciones que perjudicaron al Barcelona fueron "manotazo en cobertura de balón del Betis sobre el Barça" y "zancadilla descarada sobre Rakitic por detrás".
Aquel encuentro terminó con la victoria del FC Barcelona sobre el Real Betis por 0-2 en el Benito Villamarín con los goles de Rakitic y Luis Suárez en la segunda parte, pero el choque estuvo marcado por la expulsión de Westermann en la primera mitad por una doble cartulina amarilla. Una expulsión que a juicio del hijo de Enríquez Negreira fue justa.
Sigue los temas que te interesan


If you want some motivation, then here is your way: Frases Positivas