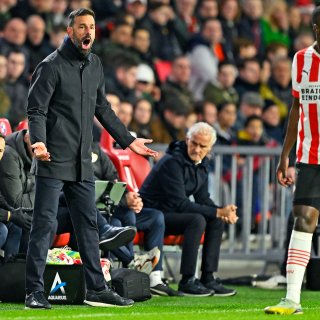 The Telegraph wrote last week about internal tensions at PSV. The atmosphere between Van Nistelrooij and his assistants Fred Rutten and André Ooijer is said to have fallen to 'below freezing point'. The two would hardly have any input during the training sessions and the communication is according to The Telegraph rough. Ooijer announced in March that he would leave in the summer, Rutten would consider doing the same.
According to The Telegraph does the group of players want the experienced Rutten to stay to support Van Nistelrooij, who was only appointed last summer. In a conversation with the club would some key players have cracked hard nuts about Van Nistelrooij's way of communicating and tactical choices.
The club confirmed in a statement yesterday that several talks have been held in recent weeks on "internal affairs". After consultation with Van Nistelrooij on Tuesday evening, it was decided to at least finish the season together, but the next morning the former striker still decided to leave. Assistant coach Fred Rutten will take over Van Nistelrooij's duties next Sunday. Then PSV will play the last game of the season against AZ.
Last Sunday, Van Nistelrooij called in the reporting The Telegraph about tension within the staff against the NOS still 'an inflated story'. "We are working very well as trainers, as staff, as a group. Of course you have discussions and disagreements to get everything out of it. Is that a story? The fact is that Ooijer is stopping. We knew that and you knew that. I think it's a fuss over nothing."
PSV is currently second, but due to a disappointing home draw against Heerenveen in the last round, still has to face AZ. Ajax is three points behind and could still take over second place. AZ, in turn, could still catch up with Ajax.
Club icon

Van Nistelrooij is considered a club icon of PSV. As a player, he scored 62 goals in 67 matches. He started his coaching career with the youth teams of the club from Eindhoven. Van Nistelrooij was honest about the fact that he ultimately wanted to train PSV first, but when head coach Roger Schmidt announced his departure in early February 2022, he initially held off. "I don't think I'm ready for that yet," he said. "I think we need to continue on the path we agreed on. The ambition and the drive is there, but this comes too soon."
Less than two months later, Van Nistelrooij still signed for three years as head coach of PSV. "I was convinced that I could fully direct my own coaching career and one more season of experience as a trainer of Jong PSV was appropriate," he said. "But it turns out not to direct. This is the time."
Van Nistelrooij is not the first PSV club icon to have to give way as a trainer. Mark van Bommel, current trainer of FC Antwerp, coached PSV from June 2018 to December 2019. Van Bommel played six seasons for the team from Eindhoven and won four national championships.


If you want some motivation, then here is your way: Frases Positivas