Tutorial PS5: How to easily install an SSD
If the PS5 has one major concern: it's its storage space… 1 TB is clearly not enough for some players. Between the games that weigh more and more and the untimely updates that take up a lot of space, it is difficult not to find yourself short of available GB… Fortunately, Sony gives you the possibility of adding a SSD in your console, all without voiding the warranty!
The criteria that an SSD must meet to be installed on PS5
The SSD is a faster and more robust storage space than our good old classic hard drives (HDD). It is since this console generation that Sony has decided to install, as a standard, an M.2 NVMe type SSD in their machine.. Concern ? It's that the 1 TB limit is clearly not enough for players wishing to multiply the experiences. Add to that some unlucky people who have to re-download games with a slow connection, and you'll quickly understand why Sony gives us the freedom to install a second SSD in the PS5.
Of course, like any machine, the SSD you are going to buy must meet a few conditions to work on your PS5:
Features :
Interface : M.2 NVMe PCIe Gen4 x4
Ability : 250 Go à 4 To
Sequential read speed : 5500 MB/s minimum recommended. This matches the speed of the PS5's SSD. Sony recommends getting an SSD that has the same speed. If you decide to take one with a lower speed, it will work, you will just have a little longer loading times (nothing serious though).
Authorized formats : 2230 / 2242 / 2260 / 2280 / 22110 (type M.2)
Authorized lengths : 30 mm / 42 mm / 60 mm / 80 mm / 110 mm
Authorized width : 22 mm / 25 mm with the cooling structure.
Maximum allowable overall dimensions with cooling : length: 110 mm / width: 25 mm / height: 11.25 mm
Cooling : Important point on cooling. This SSD must have a high quality heat dissipation system. Indeed, it is very strongly recommended to select an SSD which is already equipped with a system of temperature regulation or to buy a heat sink in addition.
Type the socket : Socket 3 (key M) The socket to remember is that of type 3, known as key M, i.e. single and double-sided M.2 SSDs are compatible. And finally, regarding the height of the SSD and the distribution of space between the heat sink and SSD itself, it is necessary to follow this rule: Above the SSD, the heat sink must be less than 8 mm and in below the SSD, it should be inside 2.45mm.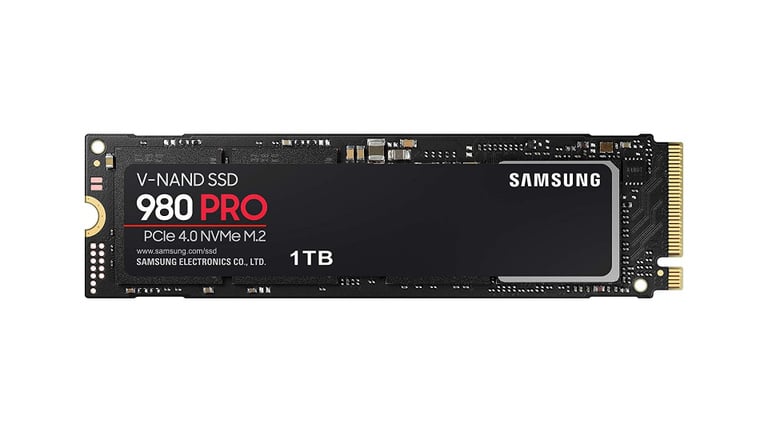 To be sure to choose a good SSD for your PS5, do not hesitate to consult our dedicated buying guide
---
Accuracy
To install an SSD in your PS5, first remember to turn off your console and unplug it before starting any maneuver.
First, you must have a Size 1 Phillips screwdriver.

Next, make sure you're working on a flat, stable surface, it would be silly to damage your PS5.
Your first mission will be to take off the upper shell of your PS5 (the disc entry part for the standard versions). For this, vYou just have to pull the shell slightly to remove it from the console, and you are in the bowels of your machine!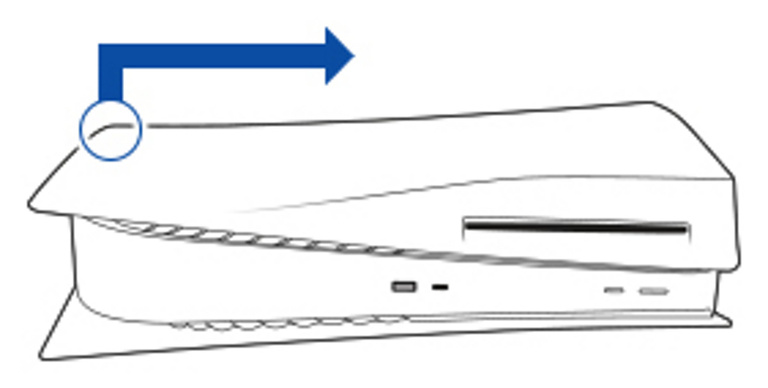 Now you can notice a small white cover right in front of you. Arm yourself with your Phillips screwdriver and unscrew the small screw that holds the port for the SSD, as well as the screw that will be used to hold your SSD.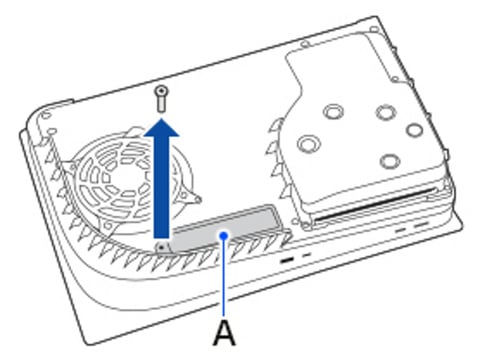 Grab your SSD and slide it into the port by putting the golden part towards the inside of the console.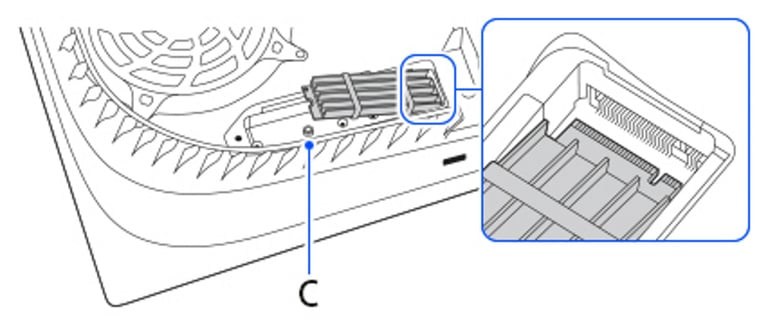 Make sure you have put your SSD in and screw the end on the fan side with your screwdriverin order to maintain your M.2 SSD.
NOW, you can replace the cover in its original placemake sure you screw it back on before you go about your business.
Replace the shell of your PS5and there you have it, congratulations: you have just increased the storage on your PS5.

But beware ! It's still not over!
Plug in your console and turn it on. If your SSD is well recognized by the console, a menu should appear when turned on, offering to format the SSD.
In your menu Settings ==> Storage, you can see the available space on your brand new SSD! Enjoy!
---
Install games on your new SSD
You can at any time go to the tab "Emplacement d'installation" to change the installation directory of one of your games. After a short loading, your game will be transferred to your new storage space.
In this same menu, you can choose the default installation SSD. Basically, which SSD will accommodate your new downloaded games (PS4 games and applications and PS5 games and applications).
---
Everything you need to know about SSDs for PS5
What hard drive format does the PS5 need?
The PS5 can only accommodate NVMe Gen 4×4 SSDs of the M.2 type. The authorized formats are as follows: 2230 / 2242 / 2260 / 2280 / 22110. The console can also use external storage such as hard drives or SSDs for PS4 games or to store your PS5 games. Please note that PS5 games installed on an external space must then be transferred to a compatible NVMe SSD or to the console's internal memory.
How to install an internal SSD on the PS5?
To do this, you will need a size 1 Phillips screwdriver. After making sure that the console is unplugged, lay it down and position it in front of you. Remove the cover and then unscrew the SSD expansion slot cover. Remove the screws, plug in the SSD and screw it in. All you have to do is close the cover of the space dedicated to the SSD and replace the outer cover. Plug the console back in and follow the PS5 format utility instructions so you can use your new SSD. For more details, visit this link!
Why is it necessary to have a heatsink on SSDs for PS5?
Several characteristics are necessary for your NVMe SSD to be compatible with the PS5. One of them is the presence of a heat sink. It reduces the temperature of your storage and thus improves performance. A poorly cooled SSD indeed lowers its performance to avoid overheating. This is all the more important since the expansion slot does not benefit from ventilation.


If you want some motivation, then here is your way: Frases Positivas