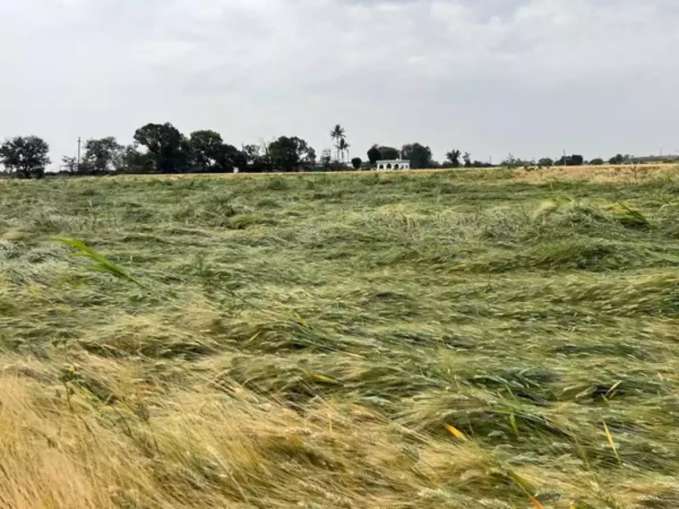 unseasonal rain, hailstorm and strong wind have damaged the wheat crop in over 5.23 lakh hectares in the three states. This has resulted in heavy yield loss and harvesting crisis for the farmers. Bhupendra Singh, a farmer from Badarpur village in Punjab's Mohali district, said, "The wheat crop has suffered heavy losses due to bad weather. The average yield of wheat is 20 quintals per acre. But this time it will come down to 10-11 quintals." That means the yield per acre is expected to decrease by about 9 quintals.
Most wastage in three states
India is one of the major producers of wheat. It is the staple food for a large population of the country. High inflation and food security concerns predominate amid geopolitical uncertainty. In such a situation, the situation may worsen due to loss of wheat crop. According to officials, about 5.23 lakh hectares of wheat crop is estimated to be damaged in three states of Madhya Pradesh, Rajasthan and Uttar Pradesh due to bad weather. He said that the damage caused to the wheat crop in Punjab and Haryana is being assessed. The area under wheat this year is about 34 lakh hectares.
Damage to wheat and other rabi crops
Officials said the government is estimating a record wheat production of 112.2 million tonnes in the current crop year (July 2022-June 23). Union Agriculture Secretary Manoj Ahuja said the Center will review with the state governments on Monday the damage caused to wheat and other rabi crops due to unseasonal rains in the last two to three days. Wheat is a major rabi (winter) crop. The unseasonal rains have come at a time when the crop was almost ready for harvesting. Government procurement at Minimum Support Price (MSP) has also started in some parts of Madhya Pradesh. For the last two weeks, major wheat producing states of Punjab, Haryana, Uttar Pradesh and Madhya Pradesh have received unseasonal rains accompanied by thunderstorm, hailstorm and strong wind due to western disturbances. It is likely to continue for a few more days.
Crop ruined due to strong wind
Bhupendra Singh, who grows wheat on 34 acres in Badarpur, said that at some places in his fields, the crop has been damaged due to strong wind. The wheat crop would suffer an average yield loss of 50 per cent due to unseasonal rains and strong winds, he said. He said that if the rains continue for more days, the crop will be completely 'drowned'." Ajay Singh, a farmer from Madhya Pradesh said, "We are seeing fungal diseases in the wheat crop due to excess moisture. The quality of grains will be affected. He has two acres of land in Khajuraho. The total area under wheat cultivation in Madhya Pradesh is 95 lakh hectares. Of this, "about one lakh hectares" have been affected by the recent rains and hailstorm, said a state agriculture department official. "The crop loss is not much and the brightness of the crop has also been slightly affected in the affected areas," the official said.
Rajasthan mustard, gram, barley and other vegetable crops affected
Official sources said in Rajasthan too, out of the total wheat area of ​​29.65 lakh hectares, wheat crop in about 3.88 lakh hectares has been affected due to unseasonal rains. Apart from wheat, crops of mustard, gram, barley and other vegetables have been affected in Rajasthan. Sources said mustard and gram crops have been damaged in about 1.54 lakh hectare and 1.29 lakh hectare respectively due to rains in the state.
Affected farmers will be helped
According to information provided by the Office of the Relief Commissioner, Uttar Pradesh, the recent unseasonal rains have damaged over 35,000 hectares of wheat crop in the state. The maximum damage has been done in nine districts of the state – Agra, Bareilly, Chandauli, Hamirpur, Jhansi, Lalitpur, Prayagraj, Unnao and Varanasi. Relief Commissioner Prabhu N Singh said, "Around 1.25 lakh wheat farmers have been affected by the rains. Loss figures are being recorded. Till now the information of 43,142 farmers out of these has come in our system. Meanwhile, Punjab Chief Minister Bhagwant Mann and Haryana Agriculture Minister JP Dalal have directed concerned officials to conduct special girdawaris to assess crop damage. According to Indian Agricultural Research Institute (IARI) scientist Rajbir Yadav, "The loss of wheat crop is certain in hailstorm-affected areas. The extent of the damage can be ascertained only when the farmers bring their produce to the mandis.




If you want some motivation, then here is your way: Frases Positivas