Anji Bridge, India's first and only cable-stayed railway bridge, is getting ready. The entire work on the bridge is expected to be completed by May 2023, with work already completed on 41 of the 47 sections.
Usually, when you think of railway bridges, iron rails and gravel come to mind. A railway track across a hill or a river would be built of solid black stone, brick and cement. Otherwise it will be connected with solid iron beams.
However, the railway bridge currently under construction in Jammu and Kashmir's Reasi district is becoming India's first cable-stayed railway bridge. This rail bridge connects the T2 and T3 tunnels on the Katra-Paniyal railway section. It also serves as a rail bridge connecting the Union Territory of Jammu and Kashmir with the rest of the country.
It was originally planned to build an arch bridge over the Chenab River. But due to the complex, fragile and threatening geography of the region in Jammu, the project was canceled and a cable-stayed bridge was designed. The bridge is constructed with great difficulty due to geological problems. The region is also prone to earthquakes, adding to the challenges in building the bridge.
"The cable-stayed Anji Bridge has a total length of 473.25 meters and a main span of 290 meters. It stands on a single pier built 331 meters above the river bed. A main tower 193 meters high is installed on the pier and supported by 96 cables attached to it. It is suitable for trains running at a speed of 100 KMPH. ," said a Northern Railway official.
Anji Ghat Bridge is located about 80 km from the Union Territory of Jammu. A lot of expertise has gone into the construction of the bridge, which is part of the Udhampur-Srinagar-Baramulla line. The bridge is designed to withstand all kinds of extreme weather conditions.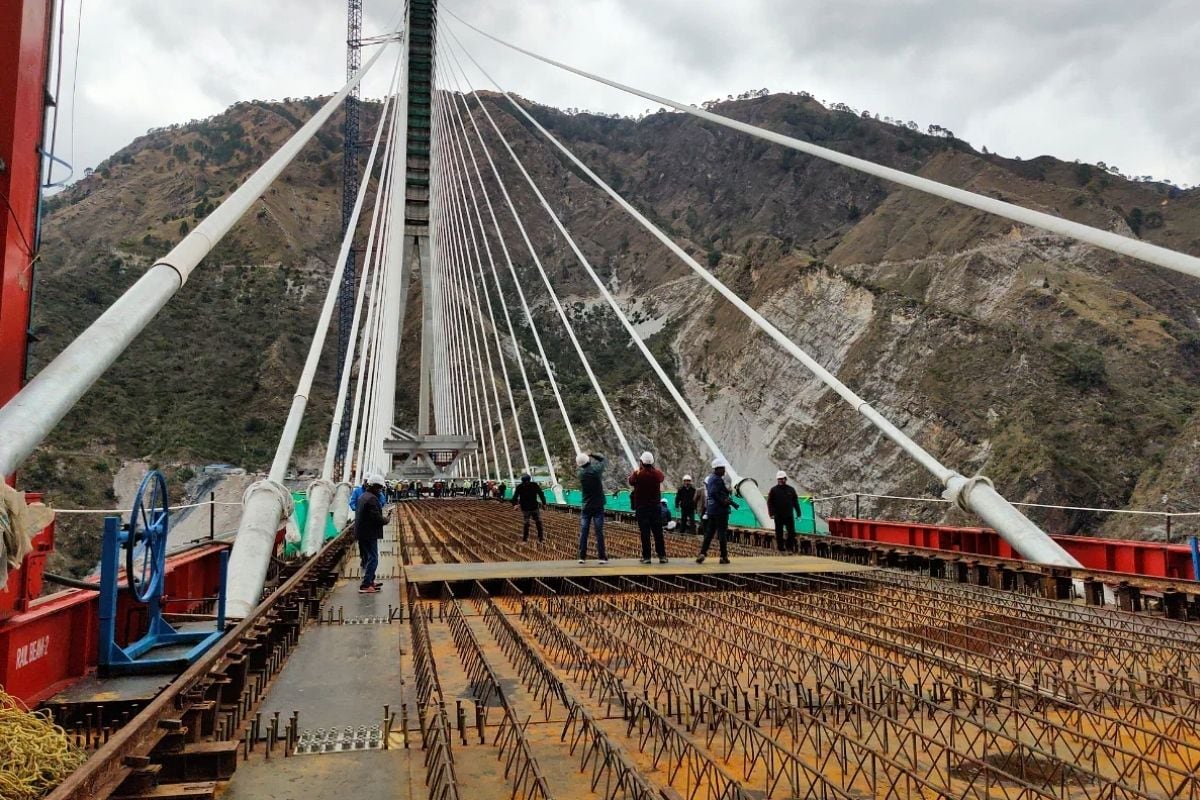 It is an asymmetrical cable-stayed bridge, balanced on the axis of a central tower. The bridge is designed with single carriageway and 3.75 m wide service road. In addition, there is a 1.5 m wide pavement on both sides of the bridge, resulting in an overall width of 15 m.
Also see: All the diamonds you dig in this mine are yours…!
Interestingly, the inspiration, design and technology for this bridge was taken from the very famous Bandra-Worli Sea Link Bridge in Mumbai, Maharashtra. Once the work of tuning the cables is done it will come into use.
From global to local news (Top Tamil News, Breaking News), Latest Tamil News, all can be found instantly on News18 Tamil (News18Tamil.com) website.
News18 Tamil Nadu TV can be found on ARASU CABLE – 50, TCCL – 57, SCV – 28, VK Digital – 30, SUN DIRECT DTH: 71, TATA PLAY: 1562, D2H: 2977, AIRTEL: 782, DISH TV: 2977.


If you want some motivation, then here is your way: Frases Positivas

Source: tamil.news18.com