vigilance Farmer Sakthivel is from the next Panampatu area. He has been earning up to Rs.35,000 per month by cultivating the long-growing Putala variety in the country's Budalanga variety.
More nutrients are available:
250 to 300 grams of vegetables should be consumed daily as vegetables are rich in nutrients. Cantaloupe, pirkangai, gourd and gourd grown in pandal play a major role in improving health. As it is the season of Putalangai and Birkankai melons, people are buying these vegetables in large quantities. Farmers are growing a large amount of hybrid varieties like Putalangai and Birkankai.
Realizing that native vegetables have more nutrients than hybrid varieties, only a few farmers are cultivating native varieties. in that respect vigilance Sakthivel from the next Panampatu area has cultivated long-growing Budalanga of the native Budalai variety at 30 cents.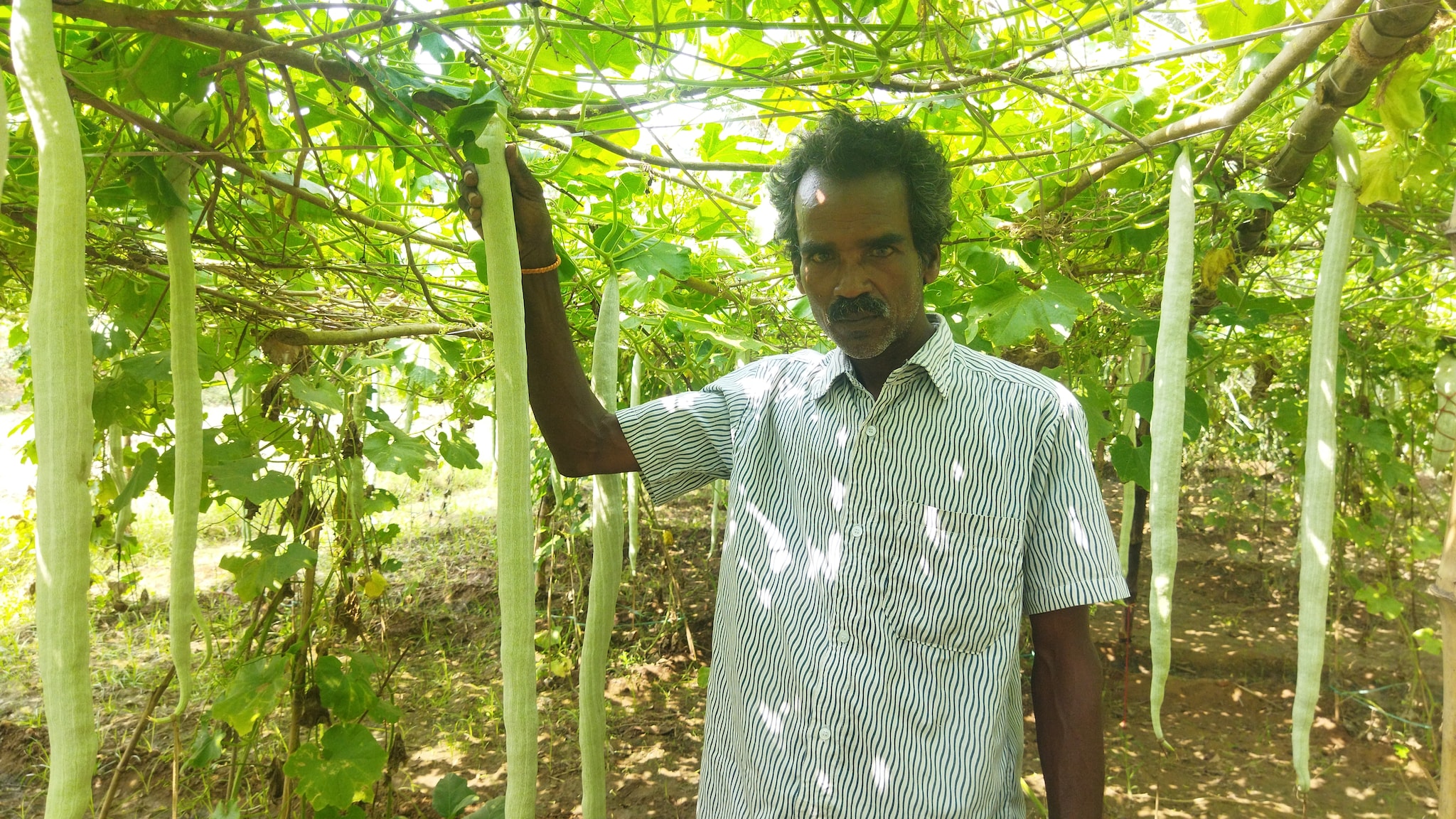 Cultivation of native buttercup
He has been farming for the past one year. Before this he was engaged in petrol station business and now he is doing agriculture. After 30 years, he is the farmer who cultivated the long-growing natputalai in Panampatu area. This plant can grow up to at least five and a half feet.
Also read: Hail rain in Hosur.. People carried away with interest!
How much it costs:
Sakthivel, a farmer who cultivates putala, said, "Pudalangai belongs to the plant family. It is a fast growing, high yielding crop. The longer the bottle grows, the better it tastes. Also available at higher prices. For cruciferous vegetables, the maintenance cost is very low. Butalai flag lanterns fluttered and shadowed the building.
The virulence of Budalanga is 5 to 6 months. But, the national variety lasts up to 9 months. Generally the yield is higher in the vigorous variety. However, premature termination may result in the full benefit not being available. But, the domestic variety is consistently yielding, so it overcomes price fluctuations and gives good profits even beyond the vigorous variety. Vigorous local buttercups are sold in the market at an additional price of Rs.2 or Rs.3. But these types of vegetable farmers do not grow crops in large quantities." He said.
How much profit is made:
Sakthivel is harvesting at least 40 kg to 50 kg of saffron per day. A kg is selling at Rs.22 to Rs.25 per kg in the markets. He is selling directly from the garden by setting up shops on the road. Agriculture Sakthivel says that this country's putala is more satisfying to the farmers in terms of taste, yield and price than the vigorous variety of putala.
Get your village news as video Click do
He further said, "I can earn Rs 1000 to Rs 1500 per day, so I see a profit of at least Rs 35,000 per month in a pot that grows tall. The farmer happily said that since it has received good response from the public and they are buying this stretch bottle in large quantities in the market, I am getting a good profit. Apart from that, some farmers come to me asking for seeds and buying them," says farmer Sakthivel.
From global to local news (Top Tamil News, Breaking News), Latest Tamil News, all can be found instantly on News18 Tamil (News18Tamil.com) website.
News18 Tamil Nadu TV can be found on ARASU CABLE – 50, TCCL – 57, SCV – 28, VK Digital – 30, SUN DIRECT DTH: 71, TATA PLAY: 1562, D2H: 2977, AIRTEL: 782, DISH TV: 2977.


If you want some motivation, then here is your way: Frases Positivas