Libra (Chitrai 3, 4 Padas, Swathi, Visagam 1, 2, 3 Padas) Planetary position – Ketu in Rasi – Saturn in Panchama Sthana – Mercury, Guru, Rahu in Kalatra Sthana – Sun in Ashtama Sthana – Sukra in Bhakya Sthana – Mars, Moon in Vray Sthana has
Transit: On 30-05-2023 Lord Shukra moves from Bhakya Sthana to Career Sthana.
Benefits: There is good progress in the family this week. The words you speak can burn others like fire. But words are full of guiding light. Fame can be maintained only by good deeds. There will be satisfactory practices in door-to-door vehicle types.
There will be situations where officials and government employees are exposed to public criticism. Private employees believe in divine power. Economy will be available fluently. The timing is right to maintain the existing reputation. There is good progress in household vehicles. Traders will work with great passion in their business and will get proper finances. There will be good progress in business. A profitable economy in the past will generate favorable spending.
Women working in government and private sectors will have new opportunities to use their savings for family welfare. There are many religions that take part in divine affairs, and students can study well and pass. Friends help in every way. Life will be strengthened. Father-son relationship will be smooth. Traveling opportunities bring satisfaction.
Remedy: On Friday do the puja of the clan deities and worship the ancestors.
Scorpio (Visagam 4th Padam, Anusham, Ketai) Planetary positions – Saturn in Sukha Sthana – Mercury, Guru, Rahu in Rana Runa Sthana – Sun in Kalatra Sthana – Venus in Ashtama Sthana – Mars in Bhakya Sthana – Ketu in Ayana Sayana Poga Sthana.
Transit: On 30-05-2023 Lord Shukra moves from Ashtama Sthana to Bhakya Sthana.
Benefits: All the actions you do this week will give you ten to one profit. There will be a yoga of achieving many achievements and gaining fame. Suitable cooperation in terms of life partner will also be available. Economic status will improve. Auspicious events will happen in races related to house and house. Married people have the advantage of being blessed with sons.
Those working in the government and private sectors will change from the unremarkable performance of the past and get jobs that are pleasing to the heart. You will buy new properties. Your position in the office will give you superiority. Entrepreneurs will see better progress. They will get good business opportunities and progress. Get new market opportunities and achieve economic progress. You will buy a new vehicle for business. Generally all businessmen will come to a good position.
Women face indirect pressure from colleagues. Your words have little value. Only by working with courageous qualities. May face risks at work. Friends get-togethers are comforting. Students can see great results in studies. With hard work, perseverance and self-confidence, achievements in studies can be realized. Make sure your focus is not distracted from your studies. Because there may be disruption in studies.
Remedy: Go to Ambal temple on Tuesday and do the morning crawl 3 times.
Sagittarius (Mool, Puradam, Uddhiradham 1st Padam) Planetary Position – Saturn in Darya Sthana – Mercury in Panchama Sthana, Jupiter, Rahu – Sun in Rana Runa Roga Sthana – Venus in Kalathira Sthana – Mars in Ashtama Sthana – Ketu in Lapa Sthana.
Transit: On 30-05-2023 Lord Shukra moves from Kalatra Sthana to Ashtama Sthana.
Benefits: Financial excellence and fame will be fulfilled this week. It is beneficial to exercise caution as there are chances that sons will find it difficult to associate with people with bad habits. Resentments arise at some interference in the family unity of husband and wife and then the situation gradually settles down.
Officers are exposed to transfer or pressures from departmental authorities and gain new lessons. Top officials in government and private banks will be upset by the arbitrary actions of their subordinates. Entrepreneurs will experience some setbacks in their careers. Will export abroad. Get new contracts and advance. Economic inflows are balanced. Fame comes according to good deeds. Due attention should be paid to the industry sector.
Women will make progress. Avoid vain arguments with spouse. Avoid frequent unnecessary travel. Helping parents has many benefits. Be kind to children. Students will study with great interest and get good grades and fame. They will get name and fame by showing their skills well. Abundant facilities are available for study.
Remedy: Visit Shiva Temple on Sunday and Thursday Planetary Positions This Week: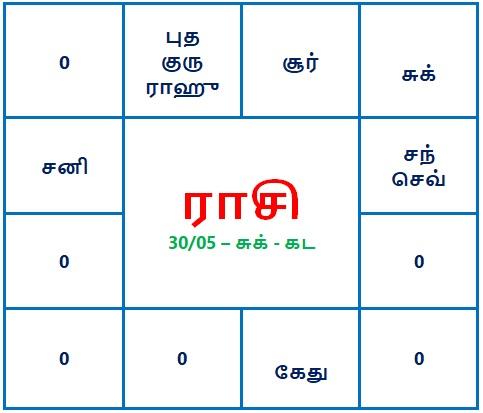 If you want some motivation, then here is your way: Frases Positivas

Source: www.hindutamil.in