Capricorn (Uttradam 2, 3, 4 Padas, Thiruvonam, Avitam 1,2 Padas) Planetary Position – Saturn in Rasi – Guru in Darya Viriya Sthana, Sun, Mercury – Rahu in Suka Sthana, Sukra – Mars in Rana Runa Roka Sthana – Ketu in Career Sthana.
Benefits: A combination of rhetoric and action, Capricorn… you are zealous. You will get success in your endeavors this week. Cash flow will be as expected. Others will understand your speech correctly. Anything that drags on can yield positive results in the end. Stay away from home. Problems in business will be removed and progress will be made. Expected financial assistance will be available. Profit to the officer. Collection of old arrears. Disruptions in business will be removed. Thinking about business development will arise. Expected help from Govt.
Incumbents will get promotion and pay rise. Work load will decrease. It is better to be cautious as sudden crises may occur. There may be useless journeys. There will be a happy atmosphere in the family. Value among relatives will increase. There will be closeness between husband and wife. Children's activities bring happiness. You will be satisfied with the purchase of household items. Do the actions as intended and you will see success. Help is available through friends. Involvement in spiritual work will increase. You will enjoy buying the desired items. There will be favorable results in marriage endeavors.
Courage will increase in the mind of women. You will get business advantage by working as planned. Artists will have to face career-related crises. Matters related to new contracts will be favorable. New responsibilities will come as a burden. Temperance is required. It is beneficial for politicians to avoid arguments with others. Long range information would be good. Everything needs moderation. Students will gain speed in studying lessons. You will succeed in education.
Remedy: By worshiping Anjaneya, obstacles will be removed. Family problem will be solved.
Aquarius (Avitam 3, 4 Padas, Satayam, Puratathi 1, 2, 3 Padas) Planetary position – Guru, Sun, Mercury in Dhanavaku Sthana – Rahu, Sukra in Dariya Viriya Sthana – Mars in Panchama Sthana – Ketu in Bhakya Sthana – Saturn in Ayana Sayana Poha Sthana .
benefits: Kumbarasi who plan and act and succeed in anything… You work hard to make progress in your business. This week there may be delays. It is beneficial not to entrust others with responsibilities. You will make efforts to resume work that is already half done. Unwanted things may happen. It is better to plan anything. Family members can create a happy mood. The decisions taken by husband and wife after heart-to-heart talk with each other will be beneficial. Children's education needs attention.
Relatives and friends will help you in times of crisis. There is no fixed thought in the mind. Money crunch will decrease. Expected help will be available. You may have to face an unexpected problem in business. Orders and supplies need attention. Cash flow may be delayed. Incumbents will have to shoulder additional workload. Major responsibility may be available. Expected promotion may be available. You will complete the tasks better with the cooperation of your colleagues.
Increases confidence in women. Travels will bring benefits in business. It is better to be cautious. Art professionals will have more patience. Cash flow will be satisfactory as expected. You will get the help you need to succeed. People in politics will have to face transfer and demotion. However reputation will be gained. Students incur expenses for education. Confidence to succeed in education will increase.
Remedy: By worshiping Lord Vinayaka on Saturday, difficult tasks become easier. Courage will increase.
Pisces (Puratati 4th Padam, Uttaratathi, Revathi) Planetary Position – Jupiter, Sun, Mercury in Rasi – Rahu in Tana Vaot Kumbha Sthana, Sukra – Mars in Sugasthana – Ketu in Ashtama Sthana – Saturn in Laba Sthana.
Benefits: You're a fun-loving Pisces who jumps headfirst into anything without getting into trouble thanks to your cleverness and subtlety. There will be many yogas this week. You will be quick to complete the task you set out to do. You will overcome any obstacles with intelligence. You will face any problem with courage. There will be happiness in the family. Value among relatives and friends will increase. You will enjoy buying household items. Intimacy between husband and wife will increase. Happiness comes through children.
Business problems will be removed and things will go well. You will get additional profit. You will try to expand your business. Incumbents get promotion. Some may get new position with additional responsibilities. Will have to work hard. A sudden problem may arise from others in the office. You may have an alternative opinion. Women get positive results from skillful speech. Obstacles will be removed. The tiredness in the mind will be removed and enthusiasm will be created. Expected information will be favorable.
Credit matters will be under control for artists. Efforts for new orders will yield favorable results. You will have to face a lot of confusion. It is better to avoid speaking angrily to people in politics. Arguments may arise with higher ups. Attention is needed. Students will study with full effort to improve academically. The value among fellow students will rise.
Remedy: On Thursday, there will be an expected influx of money to pray to Guru Bhagavan by offering garlands of chickpeas. There will be happiness. Planetary Positions This Week: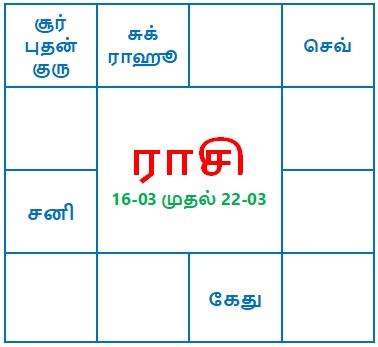 – Perungulam Ramakrishna Josyar
All the results mentioned in Rasi Balan and Astrology are predictions of the astrologer. They are not the views of 'Hindu Tamil Vektik'.




If you want some motivation, then here is your way: Frases Positivas

Source: www.hindutamil.in