Aries: (Ashwini, Bharani, Kartika 1st Padam) Planetary positions – Mercury, Guru, Rahu in Rasi – Sun in Dhana Vaat Kudumba Sthana – Sukra in Darya Sthana – Mars in Suka Sthana, Moon – Ketu in Kalatra Sthana – Saturn in Lapa Sthana.
Transit: On 30-05-2023 Lord Shukra will move from Darya Viriya Sthana to Suka Sthana.
Benefits: This week you will find a new level of respect and welcome among the higher ups in society. There will be minor disturbances in the mother's health and she will recover due to good care. Problems that have not been resolved for a long time will give a happy solution to the mind. There will be balance in the family unity of husband and wife. Life will be developed. For those who are waiting for the chance of marriage, some obstacles related to relatives will be removed.
Officers in the government and private sectors will have opportunities to spend auspiciously for the happiness of their families, avoiding luxury expenses that they had so far. Get the economy you need. Industrial food producers will gain new market opportunities and greater economic returns due to abundant yields. Manufacturers of luxury furniture products will get the best cooperation in the production and sales by getting the best cooperation from the employees.
For women, women who learn a trade and are employed will gain professional excellence. Perfect boon for women who are waiting for marriage opportunities. The students who get technical training, the students who are eligible to do more jobs in police and national security will get better chances of getting high marks in their studies and doing eligible jobs.
Remedy: On Tuesday visit the nearby Murugan temple and crawl.
Taurus (Karthikai 2nd, 3rd, 4th Padas, Rohini, Mriga Srisha 1st, 2nd, Padas) Planetary Position – Sun in Rasi – Sukra in Tana Vaot Family Sthana – Mars in Darya Viriya Sthana, Moon – Ketu in Rana Runa Roka Sthana – Saturn in Career Sthana – Ayana Sayana Bhoga Mercury, Guru and Rahu are placed in the house.
Transit: On 30-05-2023 Lord Shukra will move from Dhana Vat Kudumba Sthana to Dariya Viriya Sthana.
Benefits: This week you will be inspired and take great action. You will get back the outstanding amount. You will get reputation by intervening in social affairs and working effectively. Get assistance from government and private banks and transfer houses and plots as per your convenience. Those who are married get a son, but those who have grown-up sons also get benefits.
Officials The harsh attitude you used to show towards the departmental staff will change and your actions will be full of kindness. Thus gaining reputation and unexpected favors from employees will make your heart happy. Traders who deal in goods on lease will get more profit. Those who sell electrical related products will make progress in their business. There will be opportunities to clear outstanding debts incurred in the business.
Even though women get balanced opportunities, there is also a confused mood from time to time. Advance planning is essential. New enthusiasm and hope in children's education. However, you have to be careful about your health. Students will give due attention to their studies and pass as first class students. You will act in a way to help your fellow students with their course related doubts.
Remedy: Visit the nearby Perumal temple on Friday. Worship the jasmine flower
Gemini (Mrikasireesham 3rd, 4th Padas, Tiruvadhirai, Punarbhusam 1st, 2nd, 3rd Padas) Planetary Position – Venus in Rasi – Mars in Dhana Vod Family Sthana, Moon – Ketu in Panchama Sthana – Saturn in Bhakya Sthana – Mercury in Lapa Sthana, Guru, Rahu – Ayana Sayana in Bhoga Sthana There are planetary positions like Sun.
Transit: On 30-05-2023 Lord Shukra transits from the Rasi to Dhana Vat Kudumba Sthana.
Benefits: This week all the projects that have been stalled will come into full operation. Every success of your activity is due to the help of relatives and friends. There will be a decent rise in the economy. In the family, there will be beneficial benefits in the family unity of husband and wife. Paternal relatives will be a little jealous of your growth.
There will be active activity in the civil servants, government and private sector workers, which will get rid of the sluggishness. There will be an opportunity to undertake necessary training courses to develop managerial skills. Businessmen who manufacture and sell gold jewellery, gem dealers will get a flood of new customers and gain goodwill and economic growth. Those selling metal-based home appliances like brass, eversilver, and aluminum will see a boost in business.
Women working in government and private sector will get appreciation from superiors. Married women come under Putra Dosham system so they can get the blessedness of Santhana in a proper manner and fully. Science and technology students and primary level students show interest in studies and earn reputation for their parents.
Remedy: Go to the nearest Perumal Temple on Wednesday and crawl 11 times as long as possible Planetary Positions This Week: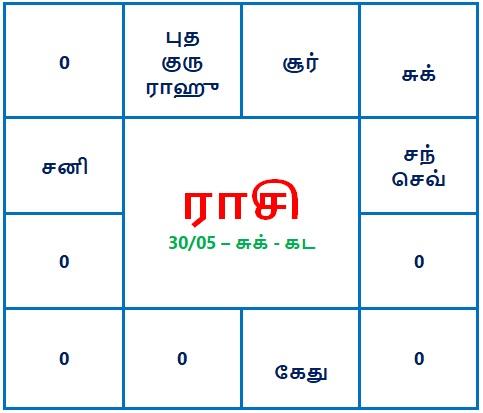 – Perungulam Ramakrishna Josyar
All the results mentioned in Rasi Balan and Astrology are predictions of the astrologer. They are not the views of 'Hindu Tamil Vektik'




If you want some motivation, then here is your way: Frases Positivas

Source: www.hindutamil.in