A tiny bit of war, Arnaud De Lie waged on the Cipressa on Saturday. A short punch, in the form of a head turn (you), and then … released. "I tried to push the pace a bit earlier. But when UAE took over, things went fast. Too hard. Honestly: I wasn't well all day. Failed to hook up. I came here to learn. And I have learned", he analyzed soberly and honestly.
Logical development, according to sports manager Kurt Van De Wouwer. "Gain experience. With that in mind, we included him in the Primavera core. It is normal that this was accompanied by a hefty portion of tuition. Yet he was left much less disappointed than after Paris-Nice. As he pointed out, he wasn't 100 percent. And if a group of forty had sprinted for victory on the Via Roma, his feeling might have been different. In the given situation, there was little left for guys like him to pick up."
If Milan-Sanremo was a kind of 'reality check' for Wout van Aert – albeit on a different level – then the first classic Monument of his life was definitely that for De Lie. More than ever, they don't want to rush things with him at Lotto-Dstny. In Paris-Nice, performance manager Maxime Monfort already indicated that he thought it was "absolutely not a good idea" to add the Tour of Flanders to his program. So it won't happen.
"At the moment there is no such thing," says Van de Wouwer. "Milan-Sanremo, soon Paris-Roubaix… we shouldn't let him show up everywhere. That would be too much of a good thing. Of course he is eager. And as a born winner from childhood already set for success. But it doesn't hurt to restrain him now and then and protect him from himself and the high expectations of the outside world. It goes fast and fast enough. We have drawn up a plan with him and we try to stick to it as best as possible."
In this case, in addition to the Helleklassieker: Gent-Wevelgem and Dwars door Vlaanderen. Van de Wouwer: "The retirement of Victor Campenaerts does not play a role in this. Yes, it's annoying. We lose an important pawn, which we will miss dearly. But I don't want to be overly negative about that either. In certain races we can count on Arnaud, in others on Ewan. And we have other irons in the fire. I also expect Vermeersch and Van Moer in the finals."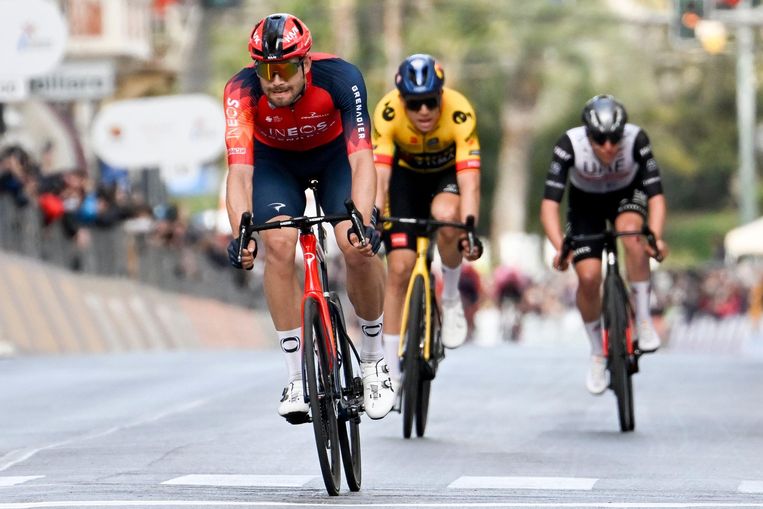 Will Filippo Ganna include 'The Round'? The number two of Milan-Sanremo is in doubt. "Paris-Roubaix is ​​his main goal," said Ineos sports director Dario Cioni. "And our fear is that if he also drives Flanders after Harelbeke, Wevelgem and Waregem, he could be over his top by then. At the moment he is flying to Switzerland after Dwars door Vlaanderen to prepare for Paris-Roubaix. But if he feels on Friday and Sunday that he can compete with the best on the steep cobbled slopes, he will not miss 'De Ronde'. We will tie the knot on Sunday evening."


If you want some motivation, then here is your way: Frases Positivas