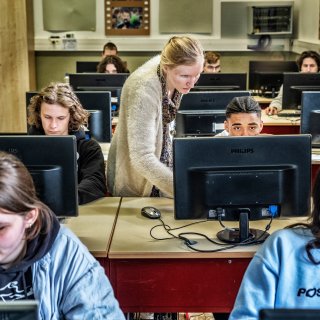 To tackle the teacher shortage, Flemish Minister of Education Ben Weyts (N-VA) is looking fully at the private sector. Employees of companies can be temporarily employed as teachers in the future. But is the transition to education really that easy?
Two weeks a year to follow lessons at the headquarters of car manufacturer BMW in Bornem: for students in the direction of car technology of the GO! Technical Atheneum in Halle it is already reality. "Sooner or later, our students end up in those technical companies," explains director Maggy Vankeerberghen. "That way they get to know that context and communicate in it."
If it is up to Education Minister Weyts, many more schools will soon be working together with one or more companies. From next school year, employees from the private sector will be able to work as a guest teacher for a class in secondary or primary education for a few hours. That person does not need to have a pedagogical diploma for this. Until now, this was only possible in technical or vocational secondary education education, under very specific conditions.
For those who do not need a few hours a year, there is a second option. Through 'service contracts', companies can lend their employees with a pedagogical diploma a few hours a week to education. A "win-win" for companies, employees and schools, according to Weyts. Schools get extra teachers with a fresh perspective, and companies can in turn introduce young people to their activities.
According to Weyts, a company can also send an employee for whom there would otherwise be no full-time job to education during a restructuring. After all, the Flemish government pays the wages of the teacher, the company only pays for the rest.
Finally, people who make the final step to education and follow a course for this will receive extra rights. Weyts hopes to keep lateral entrants motivated by including the internship hours of their degree program in the build-up of their permanent appointment.
'Rumble in the margins'

The measures have already been discussed at the government table, but not yet with the social partners. Both the education providers and trade unions indicate that they still have reservations about the plan. "The measures can be defended in themselves," said Catholic Education Flanders. "But they are not real solutions to the teacher shortage. Once again, it remains a rumble in the margins."
Education union ACOD also has serious questions about the quality of education. "People from the lateral entry are more than welcome, but this gives the impression that anyone can be a teacher just like that," says Nancy Libert. "It is not because you know the subject matter that you can transfer it to students."
To monitor the quality of education, Weyts promises more resources for the initial guidance of teachers from the private sector. But the question is whether that will be enough. Teachers are already signaling that they have too little time to teach. That workload will not improve if they have to supervise even more starters. Directors, on the other hand, are faced with the difficult task of reconciling the school schedule with that of employees from the private sector.
The GO! school group in Ghent can speak about it. Precisely because they noticed that schools could no longer provide sufficiently intensive and customized guidance, they started the INTRO project together with the VDAB. "The group of lateral entrants is getting bigger and has different guidance needs than other starters," says Nathalie Vanden Bossche, coordinating director of secondary education at the school group. "More intensive initial guidance with tailor-made coaching has become a necessity. In this way we can not only guarantee the quality of education, but also ensure that lateral entrants keep their job."
Specific methods

It is striking that primary schools could also enter into an arrangement with a company or guest teacher. "I might see a guest teacher stepping in for musical education or religion," says Daniëlle Verhoeven, director of the Vrije Basisschool Wonderwijs in Haasdonk. "However, learning to read, write or calculate requires specific methods that we use step by step from kindergarten. Teaching a large group of young children is something different than occasionally supervising one or two children."
There are therefore still doubts about Weyts' plans from a practical point of view. But experts are not wildly enthusiastic either. "For me, the main question is: how many people are you going to lure with that and what is their intrinsic motivation?" says professor of sociology of education Filip Van Droogenbroeck (VUB). "It should not become a choice between either resigning or going to education. In addition, these are clearly just emergency solutions to a structural problem that had been announced for a long time."
Professor Ruben Vanderlinde, head of the educational master's programs at Ghent University, also emphasizes that long-term solutions are needed: "Although a system of hybrid teachers, as long as they have a teaching diploma, is not bad in itself. But a lot will depend on how you fill it in. It is not the intention that those teachers only teach, and do not care about exams, assignments or parent contacts. I think that measure by guest teachers sends the wrong signal anyway: it's not because we have a teacher shortage that we have to put everyone who wants to teach for an hour in front of the class."


If you want some motivation, then here is your way: Frases Positivas