Keeping pets at home is something that everyone loves. Most homes have dogs, cats, love birds, goldfish, etc. as pets. A few people are even turning animals like squirrels into pets.
Think what happens if you keep a lion, tiger, rhinoceros as a pet at home. Many people have already died trying to keep hounds as pets. For that, some dogs have been banned in northern states including Delhi. That being the case, it is important to know what species can be grown at home and what not.
Indian laws not only protect human beings but also provide protection to forest, trees, plants, insects, birds and animals. For that the Forest Life Conservation Act, 1972 was enacted. Under that Act the species living in India have been listed. The list is based on the conservation status of the species.
List 1 includes species that are moving toward extinction. These extremely rare species will be accorded utmost protection. It is a punishable offense to hunt and destroy any species on this list. In the first schedule (schedule 1) Andaman Teal, Assam Bamboo Partridge, Bassas are important birds. Rearing these birds at home is punishable by mandatory imprisonment and fines.
Similarly, rearing schedule 4 birds at home is punishable by a fine, not mandatory imprisonment. But there are also chances of imprisonment. Under this list there are birds such as sparrows, barbet, gull, bulbul, comb duck, crane, stork, quail, flamingo, parrot, owl, kingfisher, myna.
Mainly birds like Sentarp Bingli, Alexandrine Parakeet, Red Munia and Jungle Myna are protected under the Wildlife Protection Act. It also includes the African gray parrot, blue-throated macaw and yellow-crested cockatoo. All of these are protected from international commercial trade under the Convention on International Trade in Endangered Species of Wild Fauna and Flora.
Turtle should not be kept at home. Although one Sarar says that it is not a good omen, on the other hand, the custom of keeping turtles at home is still there. All star tortoises are suitable for keeping even in apartments. But growing it at home is a crime under the law.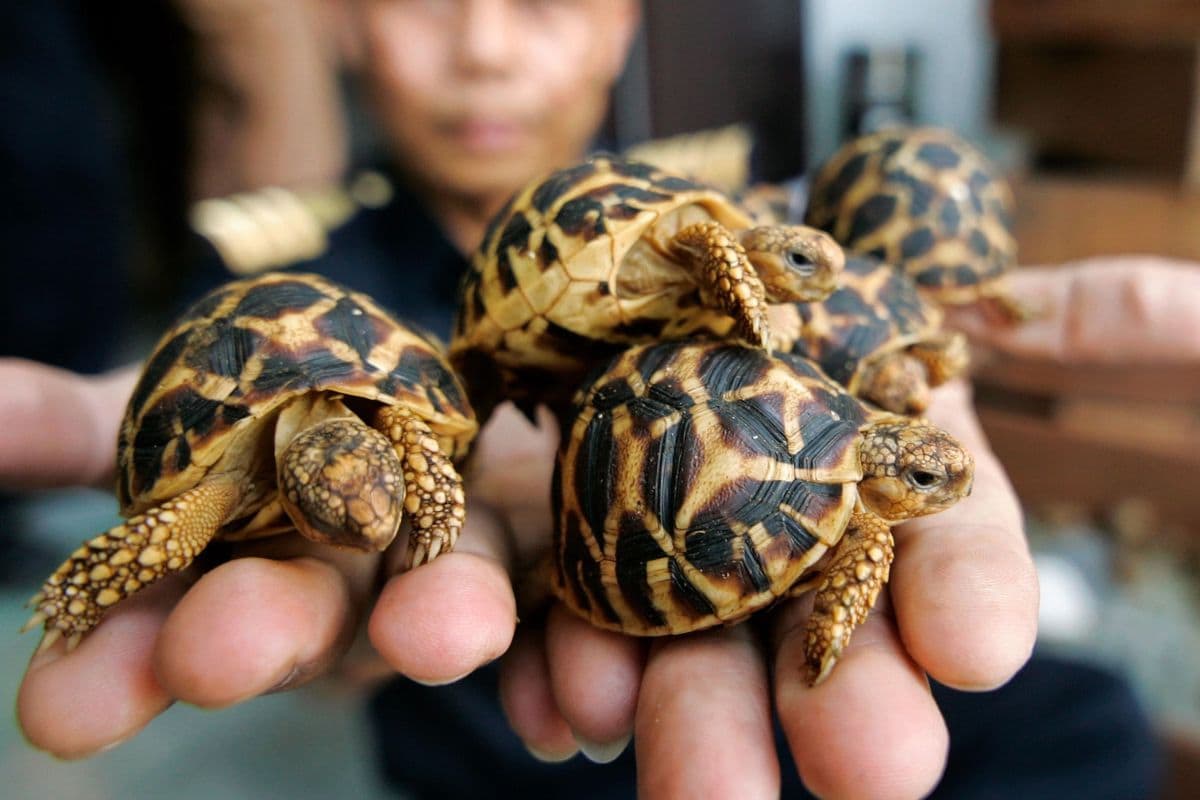 It is cruel to keep sea animals raised in narrow, small bowls of water with flying beautiful sea water. These fish cannot survive long without salt water. The Wildlife Protection Act, 1972 prohibits keeping cetaceans (dolphins or porpoises), penguins, otters and manatees as pets. Certain endangered species of fish are also prohibited.
It is also a crime to keep monkeys for entertainment purposes. Parrots are now endangered, so domestic breeding and fortune-telling with parrots is banned. Violation can result in fines and imprisonment.
Also Read: Live-in relationship should be registered like marriage.. Case in Supreme Court..!
Also, recently some houses are breeding foreign birds. It is necessary to obtain permission from the international organization called Convention on international trade on endangered species of flora and fauna for breeding foreign birds. The Government of India plans to regulate international poultry farming practices in India
From global to local news (Top Tamil News, Breaking News), Latest Tamil News, all can be found instantly on News18 Tamil (News18Tamil.com) website.
News18 Tamil Nadu TV can be found on ARASU CABLE – 50, TCCL – 57, SCV – 28, VK Digital – 30, SUN DIRECT DTH: 71, TATA PLAY: 1562, D2H: 2977, AIRTEL: 782, DISH TV: 2977.


Source: tamil.news18.com