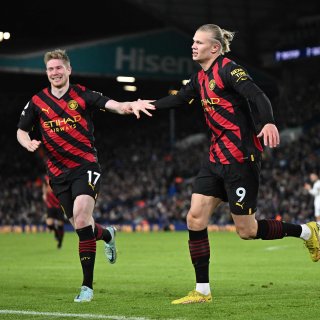 Manchester City effortlessly qualified for the quarter-finals of the Champions League on Tuesday evening. The English champion won his second leg in the round of 16 against RB Leipzig 7-0 thanks to no less than five goals from Erling Haaland.
Kevin De Bruyne is not a fan of comparisons. Even less of questions about it. Usually they are followed by a reply, fueled with the same ferocity with which he kicks on goal.
A journalist Monday: "Kevin, is this the best City you've ever played in?"
De Bruyne: "How can I compare a season in which we achieved 100 points with one in which we took four prizes? I can not do it. Does not make any sense."
However, if he is asked today who is the best striker he has ever played with, he will not blow: "Sergio Agüero."
De Bruyne rarely goes along with the issues of the day. He has sometimes described Erling Haaland as 'the dream of every midfielder', but for the Red Devil the Norwegian still has everything to prove. De Bruyne: "Maybe I'll change my mind if Erling ever blasts us to the Champions League."
However, don't ask him to compare Haaland and City's all-time top scorer (Agüero): "A 5'7″ short blocky guy against a 5'90" giant? I don't watch football that way."
Yet the matter is thrown at him more than he likes these days. Because De Bruyne is part of the debate that has been raging for some time around Haaland and his influence on the style of play. After all, less than a month ago, English media openly asked the question: is City really better off with or without the phenomenon?
No one could ignore the naked figures of Haaland: 39 goals in 36 games – 38 percent of City's total production. However, thoughtful analyzes showed that the champion also scored smoothly without a striker: 122 goals in all competitions after 42 matches in 2019, 107 goals after 42 matches last season and 103 with Haaland today.
A selection of the other findings: that Haaland is even less involved in the interplay than at Dortmund – 24 ball keys per 90 minutes. That the game has become much slower, less direct and therefore more predictable due to his presence. That the number of running actions with the ball and the dribbles has gotten a big dip. That Pep Guardiola has sacrificed fast flank players to better balance his team.
That a pressing Haaland provides the midfield with insufficient support. That City are more vulnerable to counter-attacks. That Haaland is freeing himself well, but more is not found than is found. And that De Bruyne, especially against opponents who dig in, lacks the space to send splitting passes.
Is he the victim of Guardiola's tactics, who have become terrified of the counter? The principle of more control, more programming and less improvisation?
It was that which Guardiola alluded to for Leipzig. Detailed criticism that De Bruyne also heard personally. That is why he is sometimes put on the bench in function of the opponent. To save him for the right moments.
Like against Leipzig. The more open game of the Red Bull school was perhaps better suited to types like De Bruyne and Haaland. Leipzig gave them wings.
See also Haaland's explanation on Tuesday: "We are so good when Kevin gets the ball with his nose to goal." Guardiola sometimes had to make his point: "Kevin is a fantastic, extraordinary player. But he has to move, move, move. Move, move, move. When he does, Kevin is unstoppable. The goals and the assists come for nothing. Hopefully he realizes that too. When he does, he doesn't lose as many balls. And he does not open the door for the opponent."
Apart from his search for a defensive balance, De Bruyne and Haaland are complementary. De Bruyne must be able to roam around the striker. And both are at their strongest when they can run, switch quickly. Then their qualities come into their own.
Opponents therefore often focus on De Bruyne first. Because he's the supply line. Paralyzing him also means more chance to neutralize Haaland. Moreover, De Bruyne dares to lose a ball in the small space, where he is not always the most agile. With a one-in-three loss of the ball, he's never been more sloppy – a reflection of lesser form?
On the other hand, the risk that De Bruyne puts in his game also creates unexpected opportunities. Like against Leipzig.
Asked about his issues and City's once grinned that Monday. "In the past they said we didn't have enough presence in the box. Or that we didn't dig deep enough. Now it's the reverse. I don't think we should complain about Haaland. I do not worry."
Bullshit is a language he has a bad command of.
On Tuesday, De Bruyne was right.


If you want some motivation, then here is your way: Frases Positivas