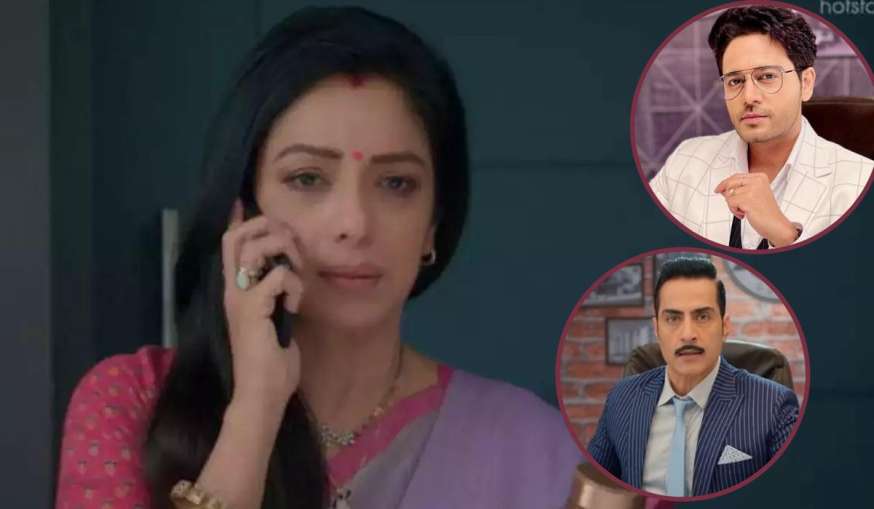 Anupama asks Maya and Anuj what is it that I will not be able to understand. Anuj remembers Maya kissing Anuj and gets worried and requests Anupama not to inform about it as Anupama would misunderstand. Anuj says Maya doesn't want him to tell her what happened during the picnic. Kavya asks Vanraj if he remembers what he told his ex-wife about his wife? Vanraj stands with his head bowed. Kavya says he said that he is not happy with Kavya, he has not progressed after marrying her and he finds peace with Anupama instead. She tells Hasmukh that he spoke a lot against her. She asks Vanraj how can he speak like that. If she feels that he belongs with her, she will make no effort at all. He is so selfish that he wants Anupama back in his life and it is good that Anupama gave him a stern warning. Vanraj says she has misunderstood. Kavya says instead her misunderstanding got cleared, Anupama was right that she cannot belong to any one woman.
Maya hid things –
Anuj lies to Anupama that little Anu ate too many chocolates and fell asleep without brushing her teeth, which he was hiding from her. Anupama relaxes and says no. Maya says she was telling him to hide about it and asks let us go inside. Anuj hugs Anupama tightly and feels guilty for lying. Maya gets jealous seeing him through the car mirror. Anuj asks Anupama if she is fine. He says hmm and asks about Toshu. She says she is fine and recalls Vanraj saying that she wanted to tell him something. Maya deliberately interferes instead of bringing her bag from the car. Anuj walks inside the house holding Anupama's hand, which further enrages Maya. Kavya warns Vanraj to destroy as much as he can and not dare to try to interfere in her life even by mistake. She seeks Hasmukh's blessings for her new job and says that neither she nor Anirudh is doing anything wrong. She warns Vanraj that he can think whatever he wants, she will not listen to his nonsense again, enough respect.
Anupama-Choti Anu's love
Anupama gives cookies to little Anu. Little Anu thanks her and says these are her favorite cookies. Anupama says it is her favorite cookie to little Anu and asks what did she do in the picnic. Little Anu says they played games, sang songs, danced and clicked a lot of pictures. Anupama asks Maya if little Anu troubled her. Maya says not at all. Then Anupama saw that Maya's sari bandage was tied on Anuj's hand. Anuj says it is just a small injury. Maya says doctor could not arrange and Anuj was bleeding profusely, so she tied her saree bandage on his wound. Anuj says she is fine. Maya says she will get infection and should take tetanus injection. Anupama notices a change in his behavior towards Anuj. Anuj goes to change.
Vanraj madly in love
At a cafeteria with Anirudh, Kavya sips a cup of hot coffee and feels jealous. Anirudh says situation or coffee, he should wait till it cools down. He says we cold met here, then why did he call her in his hose. She says what should he say. He says she wanted to show Vanraj. Poetry says much more than this. He says that basically he just used her.
Anuj's troubles increased
Anuj goes to his room and relives the incident. Maya thinks that Anupama will definitely question Anuj and after knowing the truth, she will not let Maya stay even for 15 days; She hopes that Anuj will not say anything. Anuj continues to feel guilty. Anupama hugs him from behind. Kavya tells Anirudh that their relationship didn't work because they both were wrong, she didn't want to repeat that mistake with Vanraj and tried her best, but Vanraj has completely changed and is not the same. Anirudh says life will not be same before and after marriage. They usually ignore red flags when they are in girlfriend-boyfriend territory and those red flags bother them after marriage, Vanraj's biggest problem is that he is super egoistic. Kavya says that she too has faults.
Anuj became a villain
Anuj tells Anupama that he missed her a lot. Anupama says she did too. He doesn't say much because he left his life at home. Anupama says a lot happens in a day. Maya thinks she doesn't know what they must be talking about, will she enter their room. Anirudh suggests to Kavya that he will try to save their relationship as much as possible, but if things go out of his control and he is not happy in this relationship, then he should walk out and suffocate in it. Instead of giving yourself more time. Kavya asks if he wants to say anything else. Anirudh says she should not misunderstand, they can start fresh, he is sure they will not do any mistake again.
Kavya's mistake –
Kavya says she is misunderstanding the situation, she is not with Vanraj, it doesn't mean she is looking for someone else, she doesn't believe in marriage anymore. Has been hurt twice, now wants to focus on her career. He asks if this was the only reason. Kavya says he is her friend and she felt good talking to him, can they go ahead with their project again. Anirudh says yes.
Anuj's injury
Anupama removes bandage from Anuj's hand and says such bandages make the wound worse, she will bandage him properly. He nodded in yes. She applies bandage and says she will speak first. He nodded in yes. She says she stayed at Shah's house on the insistence of the children. He says she did right otherwise she would have been bored at home. She says that Vanraj misunderstood her mingling with the kids and talking to her normally and said something which he should not have done. Anuj asks what does she mean.
Precap: Anupama dances on a song and throws flowers at Anuj. Maya also does the same. Kavya sees this and warns Maya to stop it. She warns Anupama that Maya is in love with Anuj, Anupama's husband. Anupama asks Maya if it is true. Maya says yes. Vanraj asks if Anuj is clean then why didn't he inform Anupama about it.
read this also-
Charu Asopa and husband Rajiv Sen shared a romantic photo, people said – their drama does not end
This Pakistani actress dressed like an Indian bride wearing a red dress, people trolled her
Pankaj Tripathi took legal action against the filmmaker, know the surprising reason




Source: www.indiatv.in