If the crop is seen swaying in the fields, then understand that behind it is the hard work and patience of the farmers. Farmers are engaged in the work of farming with full dedication, from preparing the field to harvesting, only then they get to see the results after months of hard work. For the farmer, the soil of his field is like nectar and to make this soil more fertile before sowing, Reversible Moldboard Plow ie RMB Plow is used.
RMB Plow is a very important agricultural tool for deep plowing of the soil, turning over the lower fertile layer of the soil, making the top layer soft, better aeration in the soil, all the weeds and roots are cut off and all the insects and worms also come out. Getting the RMB plow right is a difficult task for any modest tractor, but getting it right for Massey Ferguson's 'Dynatrack' tractor is a breeze!
Exclusive to the task, the Massey Ferguson DYNATRACK series brings together more power, state-of-the-art technology, advanced features and reliable safety to make it the king of deep plowing and deliver unmatched versatile performance. The powerful DYNATRACK range comes in a range of 2 wheel drive and 4 wheel drive options such as:
1. MF 241 (2WD) – 42 hp Range
2. MF 244 (4WD) – 44 hp Range
3. MF 246 (2WD / 4WD) – 46 hp Range
4. MF 254 (2WD / 4WD) – 50 hp Range
This tractor is equipped with several pioneering features, with which it becomes easy and efficient for the farmers to operate RMB Plow. The Dynalift – Intellisense Hydraulics of this tractor makes it easy to operate the RMB Plough, which helps the farmers to plow with a flat depth. Its 25 LPM pump delivers fast action and is capable of lifting equipment to great heights. This tractor comes with 24-Speed ​​Super Shuttle Gear Box which provides multiple speed options, and with the help of this the tractor can be moved forward and backward in the field at a single speed. These features are also beneficial for haulage operations.
With Massey DYNATRACK it is now easy to perform uniform sowing at the same depth, thereby increasing the productivity of the crop. It also has many other features that make it easy to operate rotavator, loader, dozer, baler, trolley and many other implements with this tractor. The DYNATRACK tractor also has a high ground clearance and wheelbase, which makes it capable of handling rough terrain and provides complete comfort and control to the driver. The 2 wheel drive (2WD) range of this tractor also comes with the world's first extendable wheelbase which allows the wheelbase of the tractor to be reduced by up to 100 mm for farming operations, allowing it to move around in less space, and can be Can be raised up to 100 mm during transportation which provides better stability to the tractor and also minimizes the chances of tipping over.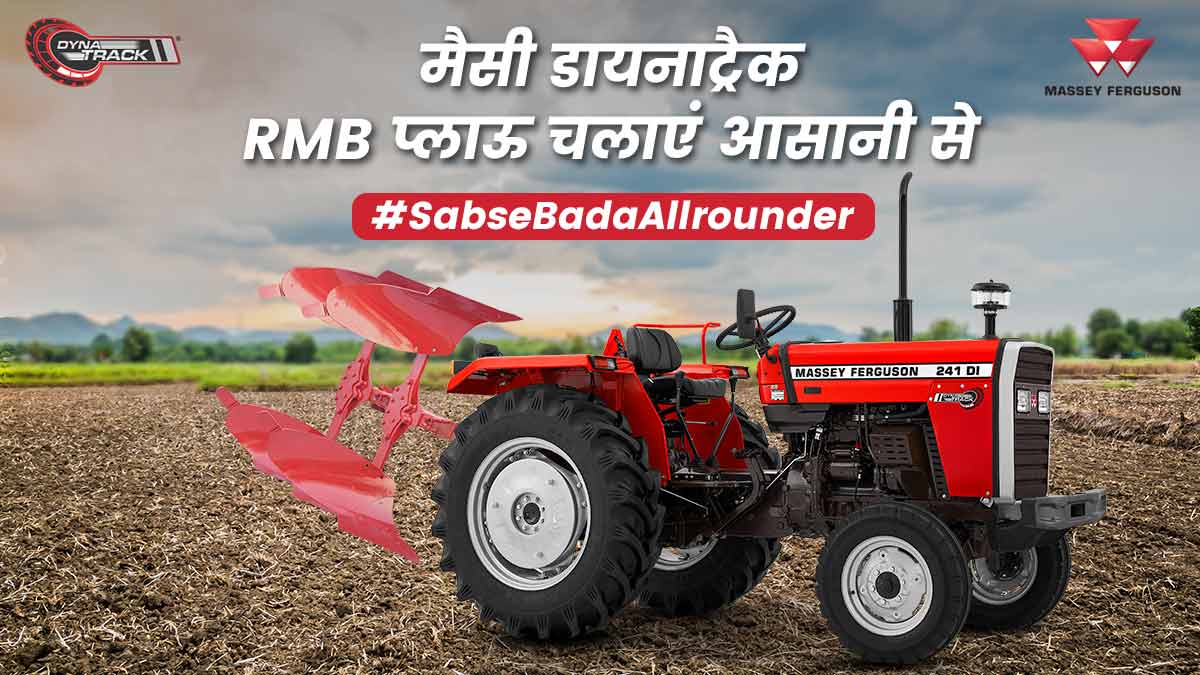 Massey DYNATRACK is a great tractor for farmers to operate RMB plows and get better yield, as well as it perfectly fulfills the needs of rural entrepreneurs doing haulage work. Due to so many benefits and versatile utility, this tractor is popularly known as #SabseBadaAllrounder across India today.
Bring home today the Massey Ferguson DYNATRACK tractor built especially for Indian farmers and entrepreneurs with over 60 years of TAFE company's experience. For pricing, more details and to book a demo instantly click on this link and fill out a simple form:
MASSEY FERGUSON – DYNATRACK
Massey Helpline: 1800 4200 200.
Note:- This article is written by Brand Desk.
Posted By: Arvind Dubey


If you want some motivation, then here is your way: Frases Positivas